The heart of the abbey education
At Belmont Abbey College, the 50-plus credit core will inspire you to read carefully, think critically, and gain a new understanding of the world around you. You'll explore the history of Western civilization, the classics of Western literature and political philosophy, rhetoric, the natural and social sciences, the Bible, the fundamentals of Catholic theology, and the fine arts.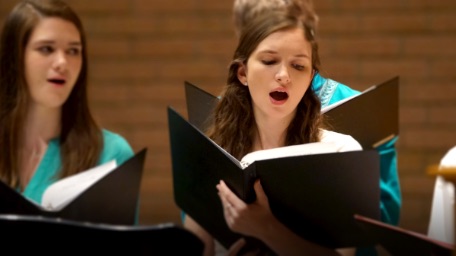 Get an Inside Look at
HOW WE APPROACH THE LIBERAL ARTS CORE
Dr. David Williams, Vice President for Academic Affairs & Dean of Faculty and Dr. Stephen Shivone, Former Assistant Dean for Academic Affairs & Former Assistant Professor of English, discuss the Abbey's unique program.
Curriculum
I. FYE 101-104, First-Year Experience, 4 credits per year
N.B.: Students transferring more than 13 credit hours to Belmont Abbey College are not required to take the First-Year Experience.
II. Foundational Skills in the Liberal Arts
Writing, 4 credits
RH 104: Rhetoric and Writing
Quantitative Thinking, 3 credits
One of the following, appropriate to the student's major:
Mathematics 135: Mathematics for Liberal Arts
Mathematics 145: Finite Mathematics
Mathematics 151: College Algebra
Trigonometry and Pre-Calculus
Any 200-level Mathematics course
Any Statistics course
Any Calculus course
III. Further Explorations in the Liberal Arts
Theology, 6 credits
Theology 105: Introduction to Scripture
Theology 205: Introduction to Theology
Philosophy, 6 credits
Political Philosophy 211: Classic Texts I and
Political Philosophy 212: Classic Texts II OR
Introduction to Philosophy 200 and
ONE from the following:
Introduction to Logical Reasoning 202
The Good Life 301
Philosophy of Science and Nature 305
Philosophy of Mind and Human Nature 330
Faith and Reason 314
History, 6 credits
History 101: Western Civilization I
History 102: Western Civilization II
Literature, 6 credits
English 211: Literary Classics of the Western Tradition I
English 212: Literary Classics of the Western Tradition II
Fine Arts, 3 credits
One (or more) of the following:
Art 101: Introduction to Art in Western Civilization I
Art 102: Introduction to Art in Western Civilization II
DA 101: Dance Appreciation
English 104: Creative Writing
English 215: Film Criticism I
English 216: Film Criticism II
Theater (TA) 108: Introduction to Theatre Arts
Theater (TA) 110: Introduction to Stage Craft
Theater (TA) 150: Acting I
Theater (TA) 112: Theatre Appreciation
Music 101: Music Appreciation
Three credit hours in any one of the following:
Chorus (1 credit)
Voice (1 credit)
Piano (1 credit)
Organ (1 credit)
Natural Sciences, 8 credits
One of the following:
Biology 100: Essential of Biology
Biology 101: General Biology
Biology 201: Cell Biology (Instructor's permission required)
Biology 231: Organismal Diversity (Instructor's permission required)
One of the following:
Science 110: Physical World
Chemistry 105: General Chemistry
Physics 201: General Physics I
Social Sciences, 6 credits
Political Science 201: The U.S. Constitution
One of the following:
Criminal Justice 201: Introduction to Criminal Justice
Economics 201: Introduction to Economics I
Psychology 201: Introduction to Psychology
Sociology 201: Principles of Sociology or another psychology or sociology course (Instructor's permission required)
IV. Other Graduation Requirements
Writing-Intensive Requirement, one flagged 3 credit course
Each student must complete at least one course designated as "Writing Intensive," marked with the designation (W) in the course schedule. Students are strongly encouraged to choose one within their major or minor field of study.
AUTHORS YOU WILL READ
From Aristotle to Virgil, and from Aquinas to Pascal, our core curriculum explores some of the greatest thinkers and writers of all time. Our students not only gain appreciation for these great minds; they also sharpen their own critical thinking skills.
Learn, Seek, Thrive
With more than 25 majors and 50 minors, you will find a program that captivates you. Explore your options!