The History of the Abbey & Benedictine Life
In episode 9 of the Conversatio podcast, Abbot Placid shares the fascinating history of Belmont Abbey and gives a glimpse into Benedictine monastic life.
00:00 – 00:24
Bridget
Welcome to The Conversation, the Belmont Abbey College Podcast. This podcast aims to form and transform our community so that each of us can reflect God's image. I'm your host Bridget. And today I'm joined with Dr. William K Thier, father, president of Bone Abbey College, Coach John Keating, the head soccer coach for the men's team, and Adam Smith, Belmont Abbey College's assistant athletic director for sports, medicine and head athletic trainer.
00:25 – 00:29
Bridget
Before we dove deep into our topic today, I'll let our guests more fully introduce themselves.
00:30 – 00:45
Dr. Thierfelder
Well, I'm just Bill Thierfelder, im the president, of Belmont Abbey college and have a background in sport as an athlete, as a coach, a sports psychology I've been in sports medicine, sports law, sports business, and I've been at Belmont Abbey for almost 20 years.
00:46 – 00:56
Coach Keating
I'm John Keating and I'm employed by this gentleman for 12, 12 wonderful years. And as Bridget said, I'm the head men's soccer coach, and that's the group I work with primarily.
57:01 – 00:59
Dr. Thierfelder
And you have a background in, you know, playing yourself.
00:59 – 01:13
Coach Keating
I did play. Yeah, myself. I do remember Africa for a while. Yeah. And I played at West Virginia University before going into coaching, turning my back on a career in finance, and then landed up here from the Midwest.
01:13 – 01:30
Dr. Thierfelder
Yeah, yeah. And can I just jump in and just say something? I know we're talking about a specific topic today, but one of my great joys was in the beginning of trying to move our sports programs to one of sport and virtue. John became aware the program was open we called. We talked on the phone for a few minutes.
01:30 – 01:47
Dr. Thierfelder
As soon as I talked to on the phone, I said I got to meet him right away. So we flew him in and I sat down the office, and the first 5 minutes I said, Oh, first of all, what are the chances of someone being a Benedictine oblate? Wow. Who's the head soccer coach who's played himself? I mean, wow, that's a God thing, right?
01:47 – 02:06
Dr. Thierfelder
So, so there's a lot more going on here than meets the eye. And he does an incredible job with the team in terms of every year they they are brought and formed into understanding virtue and in a way, the rule of Saint Benedict has been so well incorporated into all of it. So I just want to get that in because appreciate there's a lot more going on than resolutely.
02:06 – 02:22
Bridget
And I also told Coach Keating before we started the podcast off line that I was so impressed with a video I watched of him where he he was being interviewed and he said all of these guys show up hoping to be soccer stars and all I care about is if they leave. Holy right. And I was like, what am I chopped?
02:22 – 02:26
Bridget
You know, like that is an amazing coach right there. So what about you?
02:26 – 02:46
Adam Smith
I'm Adam Smith. Athletic trainer by trade. I came here in 2008 mid-year after the position I was holding previously was eliminated. And I've been there ever since. I recently took over some assistant athletic director duties to help kind of guy in the development department as a whole and then kind of look bigger picture and sports medicine on campus here.
02:46 – 02:46
Bridget
Awesome.
02:46 – 03:08
Dr. Thierfelder
And of course, you know, me I can't help a cafeteria. I just got a jumping off here. This, of course, most people may not know, but Belmont College is the seventh largest athletic program in the United States that's out of Division one, two and three. Adam is the head of all sports medicine here, athletic training. And the the work that that takes, the dedication, the knowledge, experience, is really remarkable.
03:08 – 03:12
Dr. Thierfelder
So, again, there's no small things going on here. Thank you.
03:12: – 03:43
Bridget
And I think that's why we wanted to bring all three of you together, because with your background in sports psychology, with you as a coach and you as a head athletic trainer, you know, the world really stopped last week when DeMar Hamlin fell in in cardiac arrest. I guess is what they're saying. And so we wanted to bring you all together and say, you know, as heads of these perspective departments and teams and college what was going through your mind when you saw an injury like this take place on such a large national scale?
03:44 – 03:47
Bridget
As you know, people involved in sports?
03:49 – 04:13
Adam Smith
I'll I guess I'll jump in first, you know, first responder. Yeah, yeah, yeah. That makes sense. So, you know, initially the first concern is, is the player okay? And you want the player to be okay. And it sounds trite, but, you know, the reaction everyone, you know, sending up their thoughts and prayers with you obviously want the player to be okay ultimately for me from an operational standpoint, the next thing I think of is what you know, the emergency action plan that was activated probably almost instantaneously.
04:14 – 04:34
Adam Smith
All the different pieces of that of the care that were in place before the game even started in case something like that happened and how, you know, world class that care is. Yeah. And it wasn't even it didn't even seem like it was a big deal, of course, but it wasn't it was all rehearsed and everyone it was everyone knew what their role was in those moments.
04:35 – 04:53
Adam Smith
And then and then, you know, thinking kind of outside of that, you know, there's we do that same thing that on a smaller scale here, you know, the the types of injuries may be the same, but the you know, the it's more homegrown here. And we obviously don't have the resources that the NFL has to provide some of those things.
04:53 – 05:17
Adam Smith
But we still strive to provide a care experience that is and provides good outcomes. And and a lot of those same elements are present in our emergency action plans that we rehearse. And and, you know, we're very fortunate to have the support that we have here with care of my building. A hospital in our backyard certainly is going to, you know, shameless plug there, but it certainly is going to help and it's going to only increase our ability to take care of our athletes for sure.
05:17 – 05:38
Dr. Thierfelder
Yeah. And I know that during that event, what you don't see behind the scenes that you're aware of because you you're in that world, there were so many medical professionals instantaneously. I mean, they were bringing in doctors that had specialty in airway, you know, clearing. I mean, all these things going on behind the scene just looks like are some people on the field kneeling next to a guy.
05:38 – 06:02
Dr. Thierfelder
But there are incredible decisions. And these these individuals are so talented like Adam, that they almost spot immediately what's going on. And so they the what happened to him was called Tom Watson Cordis, which is where it's a blunt force trauma to a chest, maybe you may have seen it before with especially happens like little leaguers, you know, get hit with a baseball in the chest, hockey players sometimes with a hockey puck.
06:02 – 06:20
Dr. Thierfelder
I mean it's it's where you get struck in the heart in the rib cage right under the heart. And it's it just is one of those perfect scenarios where at a certain time of the beat you get hit at that instant because if you look at the hit it really wasn't some vicious hit. I mean Matt, the helmet was up.
06:20 – 06:39
Dr. Thierfelder
He didn't get speared or anything. It's just the way he got hit in an open chest. It was enough force given probably the heartbeat and everything else that it just stopped his heart. And it's very dangerous because it's the lower chamber so it's that ventricular part of the heart that once it starts to go into fibrillation, it's not easy to stop.
06:40 – 06:41
Dr. Thierfelder
Wow. Yeah, for sure.
06:42 – 06:44
Bridget
As a coach, what were you thinking?
06:44 – 07:04
Coach Keating
Full transparency. I have not watched it and probably won't. Yeah, it's I would imagine it was very difficult for all of you to watch when I heard about it, our athletic director had sent out a note saying, in light of the situation, and I thought, oh, no, it's not an A-B student. And I immediately thought of Adam because he's he saved lives here before.
07:04 – 07:22
Coach Keating
Yes. And a like same thing, but different circumstances. So I was immediately thinking this guy was already here in my eyes. He's done it again. And then I figured out the next day I wasn't a student, thank God. And and and it happened to this this poor grant. But it did get me thinking about some of the heroic things that we've done out of done with this stuff at this place.
07:22 – 07:33
Coach Keating
So that's kind of where it stood since then. Of course, I've read a lot about it without actually bringing myself to to view it, but I can only imagine. I suppose we leave it to the mind yeah, yeah, yeah.
07:33 – 07:56
Bridget
Well, jumping right in, because we are a faith community, you know, as a Christian Catholic community, what did it say to see the reaction of the country kind of really jumping into prayer? And, you know, we a lot of people say that culture now is not God fearing any longer. And yet you see so many interviews coming out of his teammates saying that they immediately prayed.
07:56 – 08:27
Bridget
They immediately dropped to their knees. My husband played college football at the Naval Academy and he's had multiple unfortunately have teammates die since he graduated. And, you know, the funerals and the stories I've heard is that a lot of the guys that he played with who were not faithful in those moments came together for prayer. What are you guys are there any thoughts that come to your mind in terms of how sports can bring this type of community together towards prayer and pointing to a higher power?
08:28 – 08:29
Bridget
Anyone want to jump into that.
08:30 – 08:30
Dr. Thierfelder
Or to get oh.
08:31 – 08:54
Coach Keating
Well, I just wrote down the word transcendent. I think that's what sport at its best does. It helps us transcend day to day realities. And so we relegate sport to day to day realities. And then sometimes we elevated beyond that, probably irreverently. But then in these moments, I think we recognize the transcendent value of human life conveyed to us in a sporting moment.
08:55 – 09:10
Coach Keating
So in a way, it's it's kind of sport done, right. I think the response at least the outcry, I think it touched a nerve for people that have maybe started to herald sports as a religion itself and realized, yeah, maybe not with the religious aspect yeah.
09:10 – 09:32
Dr. Thierfelder
And I think the, you know, using your military there, there are no atheists in foxholes. Right? So I think when we come down to these moments of either truth suffering or death or threat of death and so forth, we get instant, I think, perspective. You know, you can get caught up in all kinds of stuff, money, power, pain, pleasure in all of these kinds of things.
09:32 – 09:51
Dr. Thierfelder
But at that instant, when you're really face to face with the ultimate, which is, you know, our lives and the or the end of someone's life that you love or that you're a teammate with a friend with, or just even some who don't know who you just care as a human being for, I think, you know, all of us, I believe are made the image like of God, we have a soul.
09:52 – 10:24
Dr. Thierfelder
Our consciences are actually our connection to God that has that awareness. That's how we know when we're doing right and wrong. Typically, and usually comes right to us. So I think those instances just immediately focus in on what's actually really important in life. And and when that happens, maybe, you know, some it comes instantly too. But when I think you start to see a reaction, those that maybe it didn't even come in initially in a moment suddenly realize, wait a second, there's something going on and everybody's recognizing the importance of of just one life, by the way.
10:24 – 10:28
Dr. Thierfelder
So you talk about being pro-life. It's it's the value of that one individual. Yeah.
10:28 – 10:54
Adam Smith
Yeah. The word that came to my mind was inspiring and outside of a few exceptions to some talking heads that maybe looking for attention but it was almost near unanimous support and everyone's praying for tomorrow. Right. Right. And to think of how many times do we do anything in our life that has that level of kind of unanimous collective pull and just the amount of seeds that were planted, like you were saying, like how many people wouldn't have even thought about that in that instance?
10:54 – 11:02
Adam Smith
But the tremendous reach that, you know, the just a couple of posts on social media and the video and everyone just just does pulling together.
11:02 – 11:17
Dr. Thierfelder
And you hope it's not a bridge too far. But if we can feel that way about the more and everybody in the whole country is pulled together in that instant, you know, they stopped the game. And the importance of this life is more important than anything else going on. Hopefully, like we can think a little further than that.
11:17 – 11:37
Dr. Thierfelder
Just say, are there value to other lives? Sure. You know, the unborn or you know, those that are less fortunate or weaker than us or elderly or whatever it might be. Do we do we get that perspective in that, you know, kind of bring us back to reality and to, you know, what what's really true, what's really important in our lives and are we focused on that?
11:37 – 11:46
Dr. Thierfelder
And not all the divisive stuff that I think sometimes we get caught up in tearing each other apart. So loving each other and figuring out how do we how do we love each other and live with each other. You know.
11:47 – 12:11
Bridget
Absolutely. Another thing to think about is the fact that this very important game ended up not even happening. What do you think this had an impact on in terms of priority? They stopped the game. They ended up not having it. Does this incident portray kind of we we kind of answered this in a roundabout way what's important in life and for it to happen on a large scale like the NFL?
12:12 – 12:14
Bridget
Are there any thoughts that come to mind about that?
12:15 – 12:36
Adam Smith
I would just call back to your your point about, you know, the what this really means. And my thing is there's obviously always a kind of temporal solution for these problems. Right. But ultimately, what we were talking about is someone's life at risk. And that's what's really important. And, you know, the NFL can figure out how to adjust the schedule for a winning percentage and you know, thinking about where we put the game, oh, we can't play.
12:36 – 12:53
Adam Smith
You know, all those things are very temporal issues. And, you know, how do we you know, I think about from from my standpoint, like all these things that we deal with on a day to day and all the challenges about scheduling and facility issues, those are all temporal, right? Those are all those have to have solutions that have their problems that will get fixed.
12:53 – 12:58
Adam Smith
And, you know, how are we keeping what's really important? What's important.
12:58 – 13:06
Dr. Thierfelder
Yeah. And even even just, you know, the way you said, you know, this was an important game. Yeah. An interesting that we write we put a certain, you know, all this sort of.
13:06 – 13:07
Adam Smith
Value really important.
13:07 – 13:28
Dr. Thierfelder
And strategically, this is going to make a difference in our lives today and certainly something we can enjoy and appreciate and that's part of what sports so beautiful about is that it does remind us of God. It does pull us to it because we get to see a human being who's made in the image like sort of God you're doing maybe something extraordinary, something that lifts us up to contemplate something higher than ourselves.
13:29 – 13:45
Dr. Thierfelder
So there's a beauty in sport and there's a goodness in sport. It has to be properly directed, you know, as you brought up earlier. And if we're doing that, then, then it's a beautiful good thing. It's when it it sort of takes on some kind of false importance you know, that this is going to be, you know, life and death.
13:45 – 13:50
Dr. Thierfelder
No, that's not life and death tomorrow on the field is life and death. And I think that's, again, what happened in that moment.
13:50 – 14:13
Bridget
Absolutely. And it also highlights the risk of professional sports and especially the violence of football. Is there anything that we could chat about in terms of that, in terms of, you said that, you know, you guys have been in the experience of saving lives before with these with these sports and everything. What comes to mind when you think of what can happen on the playing field?
14:15 – 14:30
Coach Keating
Oh, you know, every time you play a game involving contact, I suppose, or even in some of these cases, as you were saying, these blunt force. Yeah. Traumas, you know, softball is not really a contact sport, but it could be. Could be, yeah. Ball contact you.
14:30 – 14:31
Dr. Thierfelder
Or a bat.
14:31 – 14:58
Coach Keating
Yeah, true. True. So I think these kind of freaky things, these freaky things happen. I think it does raise our appreciation for being able to play a game. So sometimes when you see these athletes come on, especially in my particular game, soccer or football, as they call it overseas, and they come on the field and they always bless themselves and it's just become so routine, I'm not sure how sincere we assume the best but I like to think that what they're really saying is, Lord, just get me through this game.
14:58 – 15:17
Coach Keating
Help me appreciate this game, this moment, because it could be my last. And having done a little research here in this particular situation, it sounds like this was his his anthem, which was he did legitimately appreciate the gift that sport is to him now. Just great. Yeah.
15:18 – 15:45
Dr. Thierfelder
And I think the again, we're back to the importance of sport, but it's also just the participation in it. So there are risks to everything in life, right? I mean, when you get in your car, there are certain risk and so forth. And I think probably maybe for some of the wrong reasons, sometimes money driven motivations right. Sports have tried to mitigate as much of the potential dangers involved in it.
15:45 – 16:03
Dr. Thierfelder
Right. Certainly in a sport like football where you have incredibly sized men who are incredibly strong, incredibly fast, with hard equipment on themselves, it's amazing that there aren't more injuries, to be honest with you. I mean, it really is. It's it's phenomenal. And I've seen I've worked a lot of pro players in my life, and you just see some of them after a game.
16:03 – 16:33
Dr. Thierfelder
I mean, you know, their whole ribs and size. Can you just black and blue from hits they've taken and so forth, they have a high pain tolerance to start with in some ways. But yeah, there's certainly risk. And I think, again, not always for the right motivation in but I think sports like football with concussions, for example, where understanding more and more about concussions, this particular injury is a little bit more rare I wouldn't say this is a normal injury that comes about in football, but it does, to your point, highlight.
16:33 – 16:46
Dr. Thierfelder
Well, what about other injuries like concussions and brain damage and these other kinds of things that are really serious? And, you know, in the moment they don't seem so serious. But, you know, five years from now or ten years from now, they start to get real for people.
16:46 – 17:06
Adam Smith
So I think the you know, as far as the risk is concerned, I think it certainly underscores the risk and it highlights it in a lot of ways, like you said. But it's interesting the perspective that that people can have on that, because when I watch a game having the medical background that I do, you know, I'm looking for different things like and especially on an on our sidelines, you know, and to me, a good game is no one got hurt.
17:06 – 17:07
Dr. Thierfelder
Right.
17:07 – 17:15
Adam Smith
Right, right. And did we win or lose? Okay. That's almost secondary to everyone made know. Right. And and so just to have that perspective and you.
17:15 – 17:16
Dr. Thierfelder
Have the right priorities.
17:16 – 17:38
Adam Smith
Perhaps maybe you So it's just it's interesting that the like to me the risk isn't isn't the feature that the competition and the outcome and the enjoyment that comes with that is is what we like about sports and the risk is inherent in it. That's right. And I guess someone's perspective may lead them to ultimately appreciate one or the other.
17:38 – 17:42
Adam Smith
Right. Right. But, you know, it's just a I guess it's a mindset shift.
17:42 – 17:50
Dr. Thierfelder
From an experience. And there's been so many advances on the sports medicine side and also even on the just the strength and conditioning side of the.
17:50 – 17:51
Adam Smith
Rules to a lot of rules have changed.
17:52 – 18:20
Dr. Thierfelder
So there's there's there's this movement to try to ensure while keeping it a sport, you know, another if you if you get so far that you just cannot nothing can happen to anybody, you don't have a sport anymore. Right. So so it's it's a challenge, I think. And I, I think would probably bothers people the most is when they believe that money trumps everything, including someone's health and that we're willing to use people in order to get, quote, our satisfaction is almost like the Roman Colosseum, right?
18:20 – 18:45
Dr. Thierfelder
We're afraid of the circus. We just want our entertainment and we don't really care what's happening to human beings that go on. We try obviously here we have a much different understanding of the human person. So we still want the highest level performance possible because that's, again, going back to using all your skills, talents, ability that God's blessed you with, but at the same time doing it with sportsmanship, doing it, you know, not taking cheap shots on anybody or doing any of those kinds of things.
18:45 – 18:54
Dr. Thierfelder
But to your point, things do happen. I mean, somebody can injure a knee. You know, something can happen through no fault of anybody's anybody. Do the right training. We have the right equipment. And life still happens to.
18:54 – 18:55
Adam Smith
Called an accident.
18:55 – 18:56
Dr. Thierfelder
That's right. Yeah.
18:56 – 19:18
Adam Smith
And I also think just to elaborate that point a little bit, you I think there's been a real push in in the last five or ten years to move away from the violence is the spectacle. You know, I think about you're watching this segment called Jacked Up on NFL Live where, you know, literally highlights the biggest hits of the week and players that, you know, getting up in, they're all dizzy and thinking that you don't see that anymore.
19:18 – 19:32
Adam Smith
And. Right. And a sport like even like wrestling on campus here has very they have rules. Like it's not just go out and try to beat each other up. Like there's rules and regulations for what you can and can't do. And a lot of that is driven by player safety, but also trying to keep the integrity of the sport, like you said.
19:32 – 19:38
Adam Smith
Yeah. I mean, soccer's had had rule changes, too. I'm sure that that helped to some of the protective equipment and things like that are.
19:39 – 19:41
Dr. Thierfelder
And there's a lot of current discussion going on about heading.
19:42 – 20:19
Coach Keating
Yeah, that's going to be really interesting to see where that goes. As you said, you don't want to see a sport stripped down to pure safety and then it's lost its elements. But in a litigious society as well, when these former pros start going through head injuries, Punch-Drunk as they call them, that kind of stuff and they start to look around and sue the English Football Association for brain damage, etc., etc. The writing may be on the wall that we go through a period where we maybe move heavily pendulum wise to one side where becomes Uber safety conscious and then kind of moderate back so as not to ruin the sport.
20:19 – 20:27
Coach Keating
So I think we're probably headed for that in the not too distant future. Already seeing signs of that in most of the big contact sports, rugby included right now.
20:27 – 20:46
Bridget
And I think you want to take a pause when these things happen, but you also don't want to live in fear. You know, I'm not immersed in the sports industry right now, but I think in the overall culture right now is kind of like become more towards the fear side of you know, like always worried, like what am I going to get?
20:46 – 20:59
Bridget
Because, you know, COVID was this big thing that happened to all of us. But I think ultimately it's like, well, we we have to move on we can't live in fear. So I think that that also goes with the general theme of what we're seeing.
20:59 – 21:27
Dr. Thierfelder
How well, you know, even with the Olympics, you know, the city is Altius, Fortius, you know, you know, faster, stronger, higher. It's challenging every human being to literally be the most they're capable of being. And like anything in life, when you're trying to take something to an extreme, it's a challenge, right, that you don't cross a line. But, you know, often people are training at incredibly high levels that most people don't get to see on a daily basis.
21:27 – 21:49
Dr. Thierfelder
And, you know, you just look at the weights people are lifting and so forth. And so you know, injuries can happen. Everybody tries again. You want to make sure your technique is sound because technique very often can mitigate a lot of problems. Usually it's bad technique that lends itself to injuries and so forth. But just the nature of sport itself and human beings striving to be everything they can be.
21:50 – 22:18
Dr. Thierfelder
You know, sounds like an Army slogan, right? But it's it's that it's that desire to literally double the talent, you know, to be everything you can be. And in doing that, that means at times you're probably brushing close to the edge of being injured in some way. Even, you know, you could say, well, track and field, you're not you're not even in a contact sport where you can tear a hamstring because you've been pushing yourself, you've been running, you're going to a certain speeds and you didn't give yourself enough recovery and or your flexibility is not there or there's a weakness in your gluteus medius or whatever.
22:18 – 22:28
Dr. Thierfelder
Right. It's some imbalance that causes that injury. Right. Because you were going you wanted to run as fast as you can run. You know, we're measuring this in hundredths of a second, sometimes thousandths of a second.
22:30 – 22:57
Bridget
And then I think another aspect of the whole conversation is that this was on live national news. But there are, as you both know, there's injuries that happen that aren't on such a large scale. So could we talk a little bit about that in the pursuit? We've already kind of touched on it, but in the pursuit of competition, where does pure virtue come in in terms of especially in Belmont, at Belmont Abbey, how do you kind of balance that out where the players aren't a means to an end?
22:57 – 23:11
Bridget
They're actually like, we care about their lives. We care about their health and safety. And we've kind of already touched on it. But have we lost the true value of sport, I guess is the question on the professional level, in y'all's opinion?
23:12 – 23:31
Adam Smith
Well, I thought I'd I guess I'll defend ESPN a little bit in an almost impossible circumstance. The coverage of it was pretty fair, I thought. I mean, there wasn't a lot of close up camera shots on the medical team doing their work. It was a lot of wide shots and a lot of commercials. And, you know, you can read into that what you want about ESPN trying to keep your advertisers happy or whatever.
23:31 – 23:53
Adam Smith
But I thought from a coverage standpoint, it was being someone who may have been on the field in that situation. That's about what I would have expected and would have appreciated you know, the high of the spotlight not being on the care and being elsewhere. Right. Right. You know, I think the for us, the, you know, the the triangle approach of body, mind and spirit, you know, it's something that we keep right pretty front and center.
23:54 – 23:59
Adam Smith
It's it's hard to it's hard to get away from it in our conferences and after that as kind of slogan and motto so.
24:00 – 24:03
Dr. Thierfelder
I don't think, you know, the conference in the country that has a motto, the says champion body, mind and soul.
24:03 – 24:04
Bridget
I love that.
24:05 – 24:24
Dr. Thierfelder
It's awesome. And I and I would say that I would make the argument that when you pursue virtue, you're not giving anything up. I mean, I think sometimes there's a sense of like, well, if I'm kind of a good person or a virtuous person, then I really can't perform at a high level. And I would argue just the opposite.
24:24 – 24:44
Dr. Thierfelder
What we see sometimes as somebody who maybe is pursuing values or living a life of vice, who performs at a very high level, and we make an assumption, well, I guess you just have to accept that because that's the high level. What we don't realize is that any world class athlete, right? And if you said, let me have comparable world class athletes, one who's pursuing virtue, one who's pursuing vice.
24:44 – 25:00
Dr. Thierfelder
This person is going to outperform this person. It's just a matter of what that ability is. But it is something that if it's not intentional, it just isn't going to happen. So you've done such a tremendous job with your athletes, and I think they've come to think of it as just normal.
25:03 – 25:26
Coach Keating
Well, it it's the approach to injuries has certainly evolved, I think, for coaches, mostly because of concussions. Certainly in my playing days. And you would have experienced the same thing, the phrase, you know, you've got is bell rung or is, you know, that those kind of phrases were kind of typical and just kind of move on and there was well, fine and well.
25:26 – 25:45
Coach Keating
But now that we've inherited players as coaches, it's a it's a different mindset because now is the research becomes more definitive. We're realizing that these head injuries are serious. So maybe if I was a coach 20 to 25 years ago, I'd be like, Listen, can you play tomorrow? How do you feel? I'm okay, coach. All right, get in there.
25:46 – 26:04
Coach Keating
It's not that anymore. It's certainly now our biggest challenge is actually telling the athlete, No, you will not play Coach, I think I can I think I can cheat the concussion test. I'm not interested in you cheating the concussion test. I want your brain to be healthy when you're 35 as itching as an alumni at homecoming, right? Yeah.
26:04 – 26:25
Coach Keating
This is one game in your life. Let's let's not worry about that. In all the coaches that I'm familiar with at this college, that's the general approach. Look, we're always looking for the soft athlete maybe who is trying to beg out of running, let's say, for for that reason. Maybe he just doesn't want to get tired but for the most part, the athletes here want to get tired because they don't make them better.
26:26 – 26:33
Coach Keating
We have to actually regulate them. They're the biggest issue right now is making sure that they're being safe for themselves.
26:33 – 26:47
Dr. Thierfelder
But I know you pursue virtue formation with your players. Do you think that has an impact on the way they're able to play ultimately? You know, in other words, getting their abilities out and performing at whatever their best ability is?
26:47 – 27:07
Coach Keating
I think so in the way we watch them win, in the way we watch them lose the reaction the next day usually tells us that they have this thing in a kind of virtuous perspective. You know, if they're throwing things all the way around the locker room, then I'd be thinking you've you've lost perspective of this. You've lost the opportunity to think about getting better, which is chasing virtue.
27:08 – 27:16
Coach Keating
Likewise, if they were casual about the next game, because they just beaten the last opponent, I'd worry about arrogance. So we try and just find them right in the middle, which is.
27:17 – :27:23
Dr. Thierfelder
What do you do? Like you do this this virtue thing at the beginning of the year, don't you like don't they all sign like a yep.
27:23 – 27:46
Coach Keating
Yeah. We have this core value certificate. They really are virtues, but dressed up as characteristics, selflessness, that kind of stuff. It's. Yeah. And so they memorize them well. And then on the first day of season they have to regurgitate them word for word and then they sign off on a somewhat of a, quite a promise as opposed to try and live out these core values over the four years.
27:47 – 28:11
Coach Keating
And so we've heard really neat stories about from some of the alumni that will call in out of nowhere and say, alongside my Belmont Abbey College diploma on the wall of my, my, my legal office is the core value certificate. And that's that's kind of nice because what it's saying is, is that the academic part of what they received here is as important as the, the faith and then kind of virtue piece.
28:11 – 28:11
Coach Keating
Yeah.
28:11 – 28:13
Dr. Thierfelder
That's that's that balance.
28:13 – 28:13
Coach Keating
Yeah.
28:14 – 28:17
Bridget
Do you have any stories doctors here fodder from your time?
28:17 – 28:20
Dr. Thierfelder
I got plenty of stories that relate to anything we're going to talk to right here.
28:20 – 28:43
Bridget
Well, from your time in athletic and professional athletic sports medicine of that virtue and vice within it, you don't have to say means. But were there any examples that you saw with coaching athletes before they would even get to the field with psychology where you would help them through the virtue and vice struggle that helped them? Then you saw a difference on the field, maybe?
28:43 – 29:01
Dr. Thierfelder
Yeah, absolutely. And what I would say to you is most athletes typically will come to you to come to any of us. Right, with something physical. Yeah. That they want this just one thing. I want to prove this one thing. And then they think it's going to take care of everything and as we all know, as we look at them, well, actually, you don't need one thing.
29:01 – 29:22
Dr. Thierfelder
You need 15 things, okay? And even the 15 are made up of similar feelings, right? In some way. And they don't realize that. So what you try to do initially with an athlete is you got to try to pull them in to start with, right? So I'll usually do something literally in the first session with an athlete that they will see themselves actually having up dramatically better physically.
29:22 – 29:47
Dr. Thierfelder
Right. And as soon as you've done that, they're like, okay, what else do you have? Right? So what they come to quickly understand is that physical is great, but you don't get physical if you don't have mental rate. And then what's really interesting is once they get that they realize, but that doesn't, that doesn't really solve how I'm going to deal with the deeper things in life, the deeper issues of sacrifice and how much of relationships I have and all these other kinds of things.
29:47 – 30:08
Dr. Thierfelder
And they've suddenly realized the spiritual part of my life is actually the most important part of my life. Right. So again, it's each of those athletes. So I could just tell you, I won't say his name, but I had one guy who was in the Super Bowl. He was a Super Bowl champion, started, you know, Super Bowl. I got traded to another team, the other team.
30:09 – 30:33
Dr. Thierfelder
The coach didn't want him at all and really sabotaged him, tried to everything in the world to make his life difficult and not successful. GM had brought him in, but not this petition's coach and made life miserable for him. And he was given complete junk. Plays a guy who was used to being in on 65 or 70, plays a game, was suddenly getting ten or 12 plays and he was getting him at the end of a game and he's getting man downs that you almost couldn't do anything in.
30:33 – 30:56
Dr. Thierfelder
And he had it in. From the time I started with him to this time, he was able to go into those situations incredibly grateful and joyful. And he would he had the mentality that if I just had one more play in my whole life, this play right now, I could never be thankful enough to God for just this one play.
30:57 – 31:16
Dr. Thierfelder
And what's interesting about this guy is he ended up going on to set the interception record for linebackers in a single season with those few plays at the end of every game. That's incredible. And he made some incredible plays and scored touchdowns also of his interception. I mean, just incredible. And he was at such peace and had such joy.
31:17 – 31:32
Dr. Thierfelder
Even though he was put in this completely adverse situation and still performed at a level. He often said to me, I wish I had known all of this when I was actually starting and playing because I can only imagine what I would have done then compared to what I'm able to do now. But he had a completely different view on life.
31:32 – 31:40
Dr. Thierfelder
He was at peace. He he was joyful things didn't get him down, didn't matter what coaches, media or anybody else did with them.
31:40 – 31:57
Bridget
That's awesome. I think that's just a testament to what we've been talking about, which is the body mind and soul are so connected. Yeah. And I think that the beauty of Bowman Abbey that I see here is that it's all equal value. If not the soul is more equal is more is of greater value than the other two.
31:58 – 32:20
Bridget
Okay. Ending with a little spicy question, feel free to jump in or two. You can pass the baton if you don't want to chime in. But this has gained a lot of media attention during a time where we are seeing some other health issues off of the football field. A lot of people talk about the vaccine having some reactions, some possible reactions.
32:20 – 32:40
Bridget
But what we see with DeMar is that any time this topic has been brought up was there a connection or a link to the vaccine? It has been pretty shut down immediately. How what does this bring up in terms of pursuit of truth as a community? Is it do we think that it's good and respectful during a time like this and not go there at all?
32:40 – 32:47
Bridget
Or should we be asking the question, was there an underlying connection at all? Again, feel free if you want to pass or.
32:49 – 33:08
Dr. Thierfelder
Or if I could jump at first and just say that in this now again, you got to realize we're outside of this. So we don't know him. We don't know the whole medical director. Anything else. I would just say in this particular instance, I don't think this had anything to do with vaccines or anything else. I just think this was such a unique situation, you know, exactly what caused it, how it was caused.
33:08 – 33:32
Dr. Thierfelder
It's a known to know one thing. It's a known problem. Right. But to your point, about the truth, which I think is what's what brings so much angst to all of us today, is that when God is removed from our culture and society, that means morality is removed that remain. That means that that there's too many people accepting that there are no objective truths.
33:33 – 33:51
Dr. Thierfelder
And then it becomes this relativism of your truth, my truth. And then we're put in a terrible situation of every single time somebody says something of doubting them because I don't know how to trust you. I don't know how how do I know if that's true or not true. So I think there's a crisis of truth in our culture, in society today.
33:52 – 34:10
Dr. Thierfelder
We shouldn't be on either political side. You can have whatever views you want, but we should all be of goodwill. We should all be pursuing objective truth and wanting to know ultimately what is true. Right. I mean, I don't know. I mean, I can live with that. Like, even if I have an opinion, if you objectively show me I'm wrong about this.
34:10 – 34:29
Dr. Thierfelder
Right? Right. I have to have enough humility to say, you know what, I was wrong. I thought I was pretty sure about this. But you you've you've made it clear to me. Now, I'm convinced that this is actually objectively true. And so I then need to change and vice versa. If it happened the opposite, then hopefully you because you're of goodwill and just really want to know what is true.
34:30 – 34:41
Dr. Thierfelder
If we were all living this way together, we'd have far less problems than we have today. It's everybody has an opinion, and it does have to be based on anything. And that opinion is now considered fact and truth when in fact, it's not.
34:41 – 35:00
Adam Smith
And I think the the the interesting thing about stuff like this is that there's really only a small group of people that know what the actual truth is. And those are those are that's to him and his family. And the people that were caring for him and the doctors and everything he saw from from them was very measured and very careful and very, you know, respectful of the privacy and and things like that.
35:00 – 35:26
Adam Smith
So I don't know that, you know, we may never know the truth necessarily about what happened, but I don't know that we really need to I think there's times to we can seek truth without knowing the full medical record is what I'm getting at, I think. And and those that know the truth are are bound by medical privacy laws and other things that would prevent them from from being being able to talk about it unless tomorrow were to come out and say, here's here's the truth.
35:26 – 35:36
Adam Smith
And then to your point, those that had potentially opinions about what happened would be to be open to receiving that truth and recognizing that as the truth. And right then going from that.
35:36 – 36:00
Dr. Thierfelder
So for example, if it's commercial Cordis which is what happened, which is this blunt trauma to the rib, to the chest cavity. Right. Which actually is what sent his heart into a ventricle arrhythmia if that's true, that came from that very acute incident that occurred at that moment. What was there some priest, maybe something else happened to his heart that's not what that is.
36:00 – 36:17
Dr. Thierfelder
That has to do with being hit in the chest at a particular moment of your heartbeat, you know, and that causes the ventricular part of your heart, the lower chambers of your heart, to, in a sense, vibrate rather than beat that came from that. I mean, it's like saying I got hit by a car that covered everything.
36:17 – 36:33
Dr. Thierfelder
Well, you get hit by a car you know? And so I think in this particular instance, it has something to do with it. But it brings up the point that people, even in goodwill are saying, well, maybe because I don't know, like, could it be because I don't know what this committee, of course, is? I don't even know that was a name.
36:33 – 36:49
Dr. Thierfelder
I don't even know what happened to his chest. It's just a heart thing. And I have heard heart things. You know, something happened with vaccines. With heart things. And so, again, we're all left unsure. And this is this is actually why being truthful is so important, because it affects or affects all of us. It affects the body of Christ.
36:49 – 36:57
Dr. Thierfelder
It affects all of us to be truthful and to do it to the best of our abilities. And again, to have goodwill and to be always seeking the objective truth and all that we do.
36:58 – 37:23
Bridget
I like that point that you made about how we're in such a heightened like truth is so relative that we're all it's almost like we're in a culture of not trusting because it's becomes a relative. So I think it's interesting to point that out, that this was a known thing that happens to athletes and because like there's other conversations about hearts and the vaccine, that that it could easily be tied.
37:23 – 37:42
Bridget
And again, like you said, we'll never know. But is that the main conversation in that we're having? It's mainly about this young man's life and the greater purpose of sports. But for a lighter ending note, what is on the horizon for both wanna be sports? Is there anything exciting coming in the spring? Any teams that we should be looking at?
37:42 – 37:43
Dr. Thierfelder
Everything is exciting.
37:44 – 37:53
Bridget
Like every sport. But are there any highlights, any any new players that are exciting to be on the lookout for or or a team that you could share with?
37:53 – 38:08
Adam Smith
Well, I'll just say this. I shared this on Instagram a couple of days ago. We are we just hired two new athletic trainers to join our staff. So we're going to be a full staff of seven total staff members this year. So I'm very excited about that. And it mainly because now we can serve our students at a greater capacity without burning out.
38:09 – 38:31
Dr. Thierfelder
Can I just say that is no small. It is because right now, if you go out into the world it is almost impossible to find athletic trainers at schools. Most schools are down numbers and athletic trainers. So it says something about Adam and the coaches and the sport virtue that's here that helps draw individuals here beyond it's just a job.
38:31 – 38:32
Dr. Thierfelder
There's something more going on.
38:33 – 38:33
Bridget
It's exciting.
38:34 – 38:37
Adam Smith
It is so nervous in the hospital like I mentioned earlier, that that's very exciting.
38:38 – 38:41
Adam Smith
Whenever that comes online in the next couple of years, I think it's probably going to be a reality.
38:41 – 38:42
Bridget
So that'll probably be a huge relief.
38:42 – 38:43
Adam Smith
To, yeah.
38:43 – 00:38:45:23
Bridget
Something were to happen. Yeah, it's right down there.
38:45 – 38:46
Adam Smith
It's right in the backyard.
38:46 – 38:48
Dr. Thierfelder
I have that relief knowing he's over there.
38:49 – 39:04
Coach Keating
I'm just happy to work with the best coaches in America, the best coaching department. I mean, there really are there they're outstanding. So it's an honor to work here. So it's always an exciting day at the ABC when you get to be a coach. It's a great way to make a living. You know.
39:04 – 39:30
Dr. Thierfelder
I think well, it's also, you know, I told you about John. He was one of the first to come when we were restoring the whole sport and virtue piece. And it's taken a long time but I would say now we have like that critical mass of coaches. You know, almost all our coaches are just they get this and you cannot affect sport and virtue in the way that we're talking about it, where you're still going for high level performance and the fullness of being human.
39:30 – 39:51
Dr. Thierfelder
Right. You can't do that if you don't have the right coaches. So it starts there. So the fact that we have our coaches committed to this in their own personal lives and they're able to do it and still coach at a very high level is really extraordinary. And I go back to just look at the size of the athletic program implemented in college.
39:51 – 40:15
Dr. Thierfelder
I mean, when I say we're the seventh largest, I mean, do you know, like the larger like Cornell, Harvard, Princeton, University of Michigan, Ohio State, I mean, these are the schools that we're in with. This is Belmont College, a small liberal arts Catholic college. You know, in the South. So it is amazing, you know, what we're doing. And I would say it would be impossible if we didn't have the coaches and the athletic staff and athletic trainer staff that we have I mean, it's a tribute.
40:16 – 40:24
Dr. Thierfelder
I know I'm sound like I'm maybe bragging. I'm not being boastful at
all. I'm hopefully doing this in all humility, just saying I've never seen anything like this at any level.
40:24 – 40:44
Bridget
What's to your point? We did over Christmas, we did a 12 days of Christmas giveaway on social media, primarily to alumni. And one day we gave away a lot of them on Abby athletic swag. And the challenge was, you know, come on, your favorite Belmont, every sport or memory. So many along said if it weren't for Belmont Abbey, you know, I would never have gotten to play golf.
40:44 – 41:01
Bridget
I would never have gotten to play, you know, and they listed their sports and their memories. And you could tell these were alum from like ten years ago. 15 years ago, so they were it was really cool to read through those and just to see the legacy that you guys are building and growing more than it was even in the past.
41:01 – 41:07
Bridget
So thank you all for sharing with us today with anyone in light of the topic. Just want to end us in prayer.
41:07 – 41:32
Dr. Thierfelder
Sure. I'll just say, dear Lord, we we thank you for the stay and we help ask you to help us to be truly grateful for all that we have to bless. The more and all players, those that aren't seen and all those that are behind the scenes, the athletic trainers, the doctors, the coaches, the staff, all those that are seeking God's greater glory and all that we do.
41:33 – 41:38
Dr. Thierfelder
And we ask to know you're willing to do your will and accept your will and all things. And we ask all of this through Christ our Lord.
41:38 – 41:40
Coach Keating
Amen. Thank you, Mr. Nice.
41:41 – 41:42
Bridget
Thank you so much.
41:42 – 41:44
Adam Smith
Thank you very much.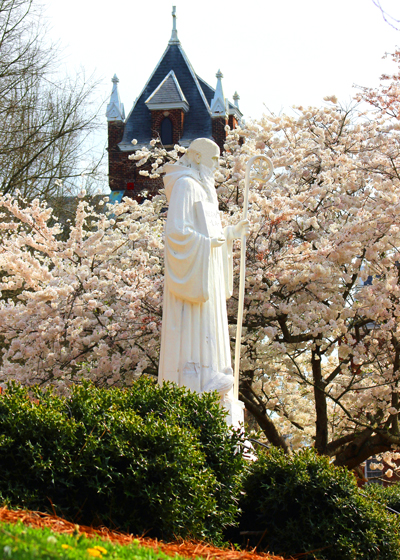 Support the Abbey
Your help will ensure we can welcome the next generation of Crusaders to a thriving college.